Ten Mile River: Camp Fees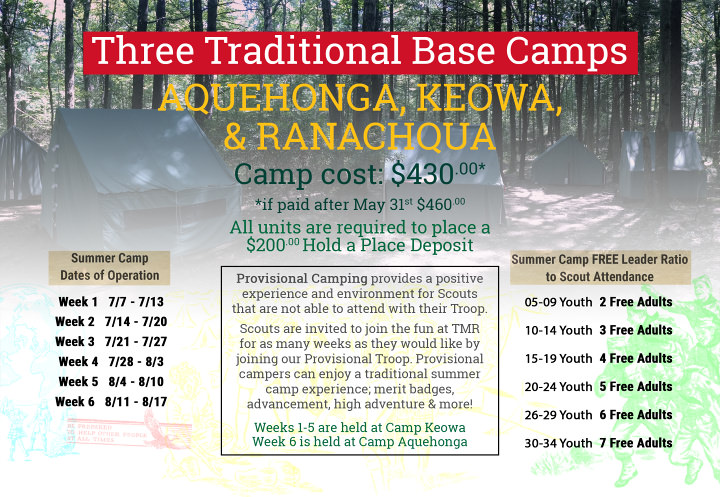 Camping Opportunity

Paid in full by

May 31st Cost

Camp Cost

Traditional Camp Resident (Per Session)
$430
$460
Specialty Camp / Trek (Per Session)
$445
$475
Leader Fee (If Over Leader To Scout Ratio)
$230
$230

Camp Fees are listed on a per week session basis. The early payment discout will be applied to anyone paid in full before May 31st. Anyone paid after May 31st will pay the regular cost of attendance.
To attend one of the yearly summer camps (Aquehonga, Ranachqua, or Keowa); the early admittance fee is $430 per session with a regular fee of $460 total. For the specialty camp (Eagle Week,etc) or the Ten Mile River Trek, early admittance is $445 with a regular fee of $475 total. SCUBA will be $585.00 for the week and pre-registration is required. Any adults attending the SCUBA Camp will receive the same PADI certification and pay the same fee as the youth.
Adult Leader Fees and Ratios
Troops and crews attending TMR are allowed a certain number of free leaders, as shown below. Additional adults are charged $230 per week. Units attending with fewer than five Scouts can arrange to share a site with another unit and minimize or eliminate Adult leader fees.
# of Youths

# of Free Leaders

5 - 9
2
10 - 14
3
15 - 19
4
20 - 24
5
25 - 29
6
30 - 34
7
35 - 39
8
40 - 44
9
45 - 49
10
50 - 54
11
55 - 59
12
And So Forth...
Camperships
Camperships are reductions in the total cost of camp, offered to Greater New York Councils Scouts. Several diffferent types of camperships exist. The field service and camping services divisions work together to administer the GNYC campership program. There are also several other camperships sponsored by various groups that promote Scouting in NYC, and their information & application forms are published here on the Ten Mile River Website. To download a form, click here.
Please Note: You must contact the sponsoring organization for each campership in order to answer any questions. Camping Services does not administer the process for awarding any camperships. Field Directors can be reached at the Council Service Center at 212-242-1100.